Commercial - Edmond G. Eslava, III - MAI, SRA
phone: 251.338.2250 ~ acgbud@aol.com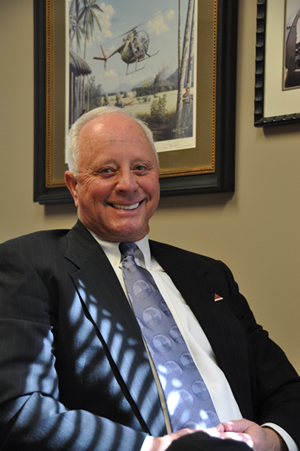 PERSONAL
Born in Mobile, Alabama. Educated in the Mobile County Public School System and graduated from C. F. Vigor High School in 1963. Graduated from the University of Montevallo, Montevallo, Alabama in 1967 with a B.S. Degree in Business Administration.
MILITARY SERVICE
U.S. Army, 1967 - 1971. Graduated from Airborne and Officer's Training School, Ft. Benning, Georgia in 1968. Attended Aviation School, Ft. Rucker, Alabama, 1969 and was assigned as a pilot to the 101st Airborne Division Phu Bai, Vietnam. Upon completion of Vietnam tour of duty, in 1970, was assigned Academic Flight Instructor, Ft. Rucker, Alabama. Honorably discharged March 1971. Highest rank attained, Captain.
EMPLOYMENT
The Appraisal & Consultant Group: Partner - Independent real estate appraisal practice. Clients include numerous governmental agencies, all major lending institutions, various state, county and city agencies throughout Alabama, right of way project appraisals in Alabama, Mississippi, Florida, Tennessee and Louisiana, along appraisals prepared for numerous attorneys, lending institutions and others who require real estate appraisals.
Eslava & Druhan: Independent real estate appraisal practice. Co-owner, January 1978 to July 1982.
Mid-State Savings and Loan Association: Chief appraiser for a large savings and loan association in Ocala, Florida, 1974 to December 1977. As chief appraiser, I was directly responsible for the appraisal of all properties being considered for mortgage purposes by Mid-State Federal; either directly or in a review capacity.
Florida Department of Transportation: Staff appraiser, 1973-1974; duties and responsibilities included the appraisal of real estate for acquisition by the Florida Department of Transportation due to highway widening and construction; appraisal consisted of all categories of properties.
Town and Country Realty: Associate broker and appraiser (1971- 1973); duties and responsibilities included field inspections and appraisals of projects for local banks, attorneys, mortgage companies, etc. The majority of appraisal assignments were of a residential nature with some limited commercial.
PROFESSIONAL DESIGNATIONS AND APPRAISAL EDUCATIONAL COURSES
Current Appraisal Designations

The Appraisal Institute, MAI, SRA

Previous Appraisal Designations

The Society of Real Estate Appraisers, SREA, SRPA

President, Society of Real Estate Appraisers, Chapter 138, 1981
President, American Institute of Real Estate Appraisers, Chapter 49, 1983
Regional Representative - The Appraisal Institute - 1993-1995
Narrative Report Grader - The Appraisal Institute - 1990 - 1993
National Experience Review Committee - The Appraisal Institute - 1996 to Present
Instructor for American Right of Way Association 1997 to Present
The American Institute of Real Estate Appraisers
Basic Appraisal Principles Methods & Techniques 7/72
Capitalization Theory & Techniques, 12/72
Urban Properties- 7/73
Investment Analysis- 11/76
Single-Family Residential Appraisals- 7/74
The Society of Real Estate Appraisers
Introduction to the Appraisal of Real Property- 5/72
Principles of Income Property Appraisals
Special Applications of Real Estate Analysis - 9/86
Instructors Clinic, 1980
SREA R-2 Exam- 1/75
The Appraisal Institute
Uniform Standards of Professional Practice, 1991
Narrative Report Writing - Instructors Course - 1993
The Cost Approach and Advanced Direct Sales Comparison Approach - Denver, Colorado, 1994
Standards of Professional Appraisal Practice, Part A (USPAP) - 1996
Standards of Professional Appraisal Practice, Part B (USPAP) - 1996
Highest and Best Use Applications - 1996
Appraisal Guidelines - 1997
Litigation Skills for the Appraiser - 1997
Standards of Professional Appraisal Practice, Part C (USPAP) - 1998
The Internet and Appraising - 1998
The International Right of Way Association
Instructors Clinic - 1995
Instructor for Course 401 - The Appraisal of Partial Acquisition - 1999
Instructor for Course 402 - Introduction to the Income Capitalization Approach - 1999
Instructor for Course 406 - Uniform Standards of Professional Appraisal Practice - 2001
Instructor for Course 400 - Principles of Real Estate Appraisals - International IRWA Meeting - 2002
Instructor for Course 400 - Principles of Real Estate Appraisals - 2003
Instructor for Course 400 - Principles of Real Estate Appraisals - 2004
Instructor for Course 403 - Easement Valuation - 2005
Instructor for Course 401 - The Appraisal of Partial Acquisition - 2006
Instructor for Course 402 - Introduction to the Income Capitalization Approach - 2007
Instructor for Course 403 - Easement Valuation - 2007
Instructor for Course 403 - Easement Valuation - 2008
Instructor for Course 400 - Principles of Real Estate Appraisals - 2009
Guest Speaker - IRWA Regional Meetings - Tuscaloosa, AL - 2010
Guest Speaker - Eminent Domain Conference - Birmingham, AL - 2010
Instructor for Course 403 - Easement Valuation - 2010
Instructor for Course 400 - Principles of Real Estate Appraisals -2011
Partial Listing of Edmond G. Eslava's Clients
| | |
| --- | --- |
| Alabama Department of Transportation | Alabama Port Authority |
| Alabama Power | AmSouth Bank |
| University of Alabama | Auburn University |
| University of South Alabama | University of Mobile |
| Troy University | City of Bayou La Batre, Alabama |
| City of East Brewton, Alabama | City of Flomaton, Alabama |
| City of Montgomery, Alabama | City of Auburn, Alabama |
| City of Foley, Alabama | City of Greenville, Alabama |
| City of Hoover, Alabama | City of Chickasaw, Alabama |
| City of Mobile, Alabama | City of Tuscaloosa, Alabama |
| Escambia County, Alabama | Mobile County, Alabama |
| Baldwin County. Alabama | Escambia County, Alabama |
| First Community Bank | First Gulf Bank |
| Hancock Bank | Regions Bank |
| Southtrust Bank | Vision Bank |
| Wachovia Bank | General Services Administration |
| US Justice Department | US Department of Interior |
| US Navy | US Army Corps of Engineers |
| Office of Thrift Supervision | Federal Bureau of Investigation |
| RTC (Prime Contractor - AL/MS/FL) | Internal Revenue Service |
| Alabama Department of Transportation | Tennessee Department of Transportation |
| Mississippi Department of Transportation | Florida Department of Transportation |
| Louisiana Department of Transportation | Volkert & Associates |
| Mobile Area Water & Sewer System | Florida Power |
| Mobile Gas | Federal Deposit Insurance Corporation |
| Clarke Washington Counties Gas | Volkert & Associates |
| Florida Natural Gas | Riviera Utilities |
| Midcontinent Express Pipeline | Federal Deposit Insurance Corporation |
| Helmsing, Leach, Herlong, Newman & Rouse | Balch & Bingham (Birmingham & Montgomery) |
| Ticor Title Insurance - Chicago, Illinois | Watt, Tieder, Hoffar & Fitzgerald McLean, Virginia |
| Carr, Allison | Ryals, Plummer, Donaldson, Agricola & Smith Montgomery, AL |
| Johnson, Druhan | Scott, Sullivan, Streetman & Fox |
| Burns, Cunningham, Mackey and Fillingem | Miller, Hamilton, Snider, Odom |
| Adams & Reese | Sirote & Permutt |
| Gaston & Gaston | |